I'm not responsible if you get banned after compiling and using this macro.
Attention:
To be able to use this code, you need to download and install Visual Studio: Download Visual Studio
Link:
https://www.visualstudio.com/en-us/post-download-vs
Functions:
QQ Macro: Automatically presses the Q key twice (with pseudorandomized delay) after pressing the left mouse button.
Instructions:
1.) Download and install Visual Studio (if you don't already have it)
2.) Open the project in Visual Studio
3.) Compile the project
4.) Run the compiled executable file
5.) Press the Home / Pos1 key to toggle the QQ Macro function
6.) Press the End key to exit the program
Virusscans:
1)
https://www.virustotal.com/en/file/182f1d9a3aff339b7fa7f50b2f3b467a373c11b2770bf133e692fafafdde76dd/analysis/1450724465/
2)
https://virusscan.jotti.org/en-US/filescanjob/t53fnpow5j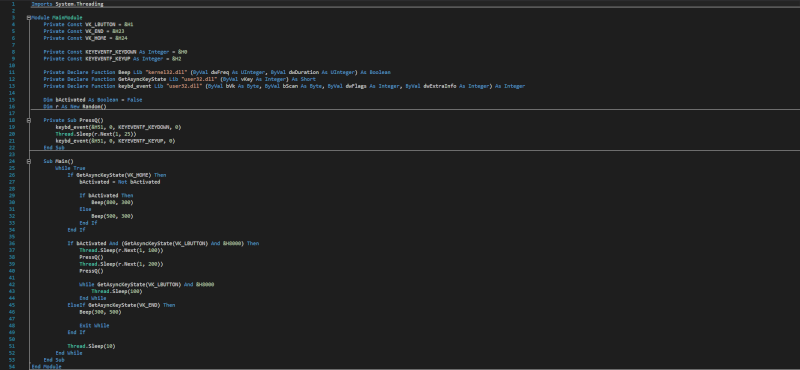 Credits to the Original Creator: ccman32
Download:>>
https://www.dropbox.com/s/ud5xp8c1opbmtqe/SimpleQQMacro_OGH.forumn.org.rar?dl=0
Check out other FPS Game called: Begone.
I just Updated and Uploaded some Cheat Engine Codes.
If you are interested on the Game and the Hack, you can click on this Link:>>
http://onlinegamehacking.forumn.org/t238-begone-cheat-engine-codes_-nplay-feb-112016