Attention: This hack may doesn't work on 32bit systems! If it does then you're lucky, if not then don't post anything about it instead of spamming the thread.
Functions:
Superweapons: Every weapon shot fires multiple bullets (customizable amount of bullets).
Spread changer: Change the weapon spread to whatever you want (also huge spread is possible).
No recoil: Removes the weapon recoil.
Semi rapid fire: Semi weapons like pistols, most snipers and shotguns turn into fully automatic weapons (also bugs the ammo)
ATTENTION: To lower the chance of getting XIGNCODE3 or "Writing to memory failed:" - errors please start the hack AFTER starting AVA while you are in the game lobby or ingame.
Screenshot: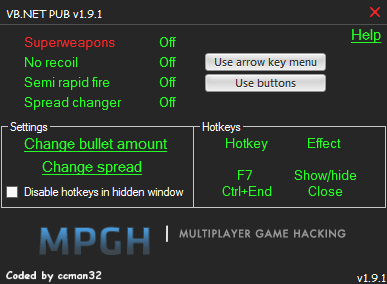 Download link here:
uploading.com/f2c41775/A_V_A-Pub-v1-9-1-UPDATE-rar